Welcome to Dexcom Deep Dives!
What is a Deep Dive?
A Deep Dive education session is for clinicians interested in getting started with continuous glucose monitoring (CGM) systems and for those looking to advance their expertise and data interpretation skills.
What is a CGM system?
A CGM system has 3 parts: a sensor that measures interstitial glucose, a transmitter that sends data wirelessly to a display device, and a display device, such as a smart phone,* to show the glucose value, speed of change, and direction glucose is heading. Newer sensors are more accessible, accurate, discreet, easy to wear, virtually painless, and provide clinicians and patients with a more complete picture of daily glucose.
Why should I register?
Deep Dive sessions are designed for clinicians who wish to increase confidence and build expertise in the use and application of CGM systems. Deep Dive sessions are led by clinical experts who share counselling tips for people with diabetes new to sensors, provide examples of real-life glucose sensor reports, and discuss case challenge questions to practice data interpretation.†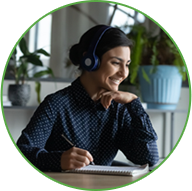 Attend one event or a whole series – it's your choice!
Certificates for participation in live webinar sessions are provided at the end of each series.
* For a list of compatible devices, please visit https://www.dexcom.com/en-CA/compatibility
† If glucose alerts and readings from the Dexcom G6 do not match symptoms or expectations, use a blood glucose meter to make diabetes treatment decisions.